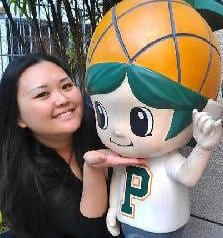 Courtney Takabayashi is a woman of many interests and talents.  She has taught English in Japan, written a book, worked as a writer for the governor, and is currently a blogger and popular writing instructor at Leeward Community College.
A creative writer and social butterfly at heart, Courtney incorporates various aspects of social media into her curriculum. So far, she has used blogging, writing movie and Yelp reviews and posting on Facebook, Twitter and Instagram to increase student engagement and productivity. In her free time, Courtney enjoys consuming food and pop culture in mass quantities.
Pūpū A ʻO ʻEwa asked Courtney to talk about her award-winning video, March On.
I was very surprised that we won! Actually, everyone (actors and the director) was surprised. We entered for fun and did everything at the last minute.

How did you choose the cast members? We did what every low budget filmmaker does: we hired our friends. Ron, the male lead, and a local theater actor, has been friends with my husband (who played Nick) and the director for about 20 years. Annie, the female lead, is also a theater actress. Wil Kahele has been acting for years and he is always up for anything, so we asked him to play crazy Uncle Kimo. We were lucky that they agreed to act in our short for no compensation except snacks on set. And finally, we didn't have time to find someone to play Nick so I asked Wayne to do it. He doesn't consider himself an actor but I thought he was great.

Where did you film the video? We filmed the indoors portion in my best friend's dining room and the outside in a park in Kaneohe. Amazingly, we were able to film in two days.

Anything that stands out about making the video? The crazy thing is I wrote a first draft in an hour between my classes on a Thursday, we did a reading the next night on Friday, I made revisions and sent the actors the final scrip on Saturday and we filmed on Sunday and Monday. Denny (the director) edited the movie in a day, the next day when we added music, we were done! The whole thing took less than a week.

What was the best part of making the video? The best part was working with friends and having a creative say in my script. We all got along really well and we hope to work together again soon!

Do you continue to write or participate in theatre? Do you have any projects lined up? I'm working on a play that I hope to submit to the UHM/Kumu Kahua annual playwriting contest. Wish me luck! [Editorʻs note: We do, Courtney!]

Is there anything youʻd like students/our readers know or any words of encouragement youʻd like to pass on to our readers? My advice is to do what you love, work with people you trust and create your own opportunities. If I waited for someone to ask me to write a script for them, I'd still be waiting and I wouldn't have won the Halloween video contest. By being proactive, I accomplished something I didn't even know I was capable of.
Credits: feature photo "Hoku Moon" by Kahoʻolemana Naone; bio photo provided by Courtney Takabayashi